CALLOUT 39 – Call to assist NWAS
September 2, 2023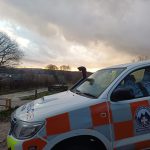 CALLOUT 41 – Call to assist NWAS
September 3, 2023
CALLOUT 40
On Thursday afternoon (15:20 31/8/23), just as a few of the team had completed some training with the Manchester HART team on Pendle Hill, the team received the fourth callout in three days, with a request through Lancashire Police about a fallen walker near the River Calder, between Altham and Read.
The team was mobilised from our base with other members going directly toward the casualty's location. Following a few issues with inaccuracies of the location we were initially sent, team members got to the casualty to assess and start treatment with further resources directed appropriately.
The casualty had an underlying medical condition which meant the fall (having been pulled over by a dog) had led to the dislocation of both shoulders as well as a suspected broken arm. Due to the injuries along with the location and access, the air ambulance was contacted and requested but was unavailable to assist due to already being deployed elsewhere.
The casualty was provided with some strong analgesia (pain relief) before being placed onto a stretcher and transported back to the road. They were then handed over to an ambulance crew for onward transportation to the hospital. We wish them a speedy recovery.
—
The Rossendale & Pendle Mountain Rescue Team is a full volunteer organization that responds to those in need in our local community. The team is on-call 24 hours a day, 365 days a year, and relies entirely on donations from members of the public to carry out this essential life-saving rescue service.
You can help with the work we do and support the team by texting 'RPMRT' to 70085 to donate £3 today.