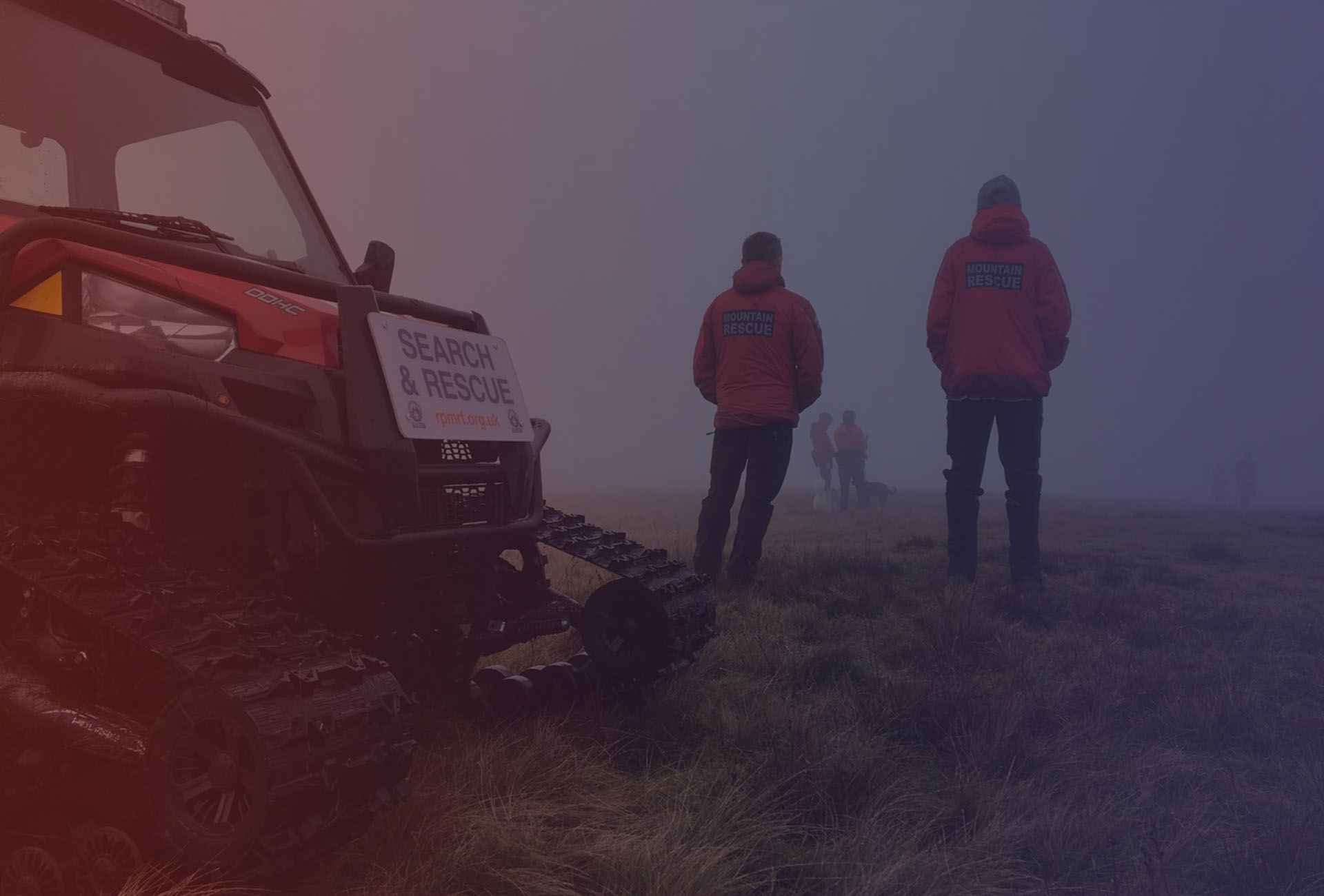 Welcome to
Rossendale & Pendle Mountain Rescue Team
---
A registered charity, made up entirely of volunteers. An integral part of the national search and rescue service, we are called out through the 999 system and cover an area of approx 350 square miles across East Lancashire, Pendle, the Rossendale Valley and parts of Greater Manchester.
---
In case of emergency dial 999, ask for 'Police' then 'Mountain Rescue'.
Give all your prepared details of the incident and STAY WHERE YOU ARE until contacted by the rescue team.
If you have to make a further 999 call, follow this proceedure in full again.
Rossendale & Pendle
Mountain Rescue Team
---
The chances are you will never need our services however, since January 2000, over five hundred people have. Injured walkers, fell runners, climbers, paragliders, mountain bikers and even the odd stranded sheep were more than pleased to see us. Our knowledge of terrain and conditions, combined with specialist equipment, vehicles, training and casualty care were vital in returning them to safety.
But our work isn't just about moors and mountains. Through our links with both Lancashire and Greater Manchester Police and the Lancashire and Greater Manchester Ambulance Services, many of our call outs involve missing person searches, or assisting the ambulance service during severe weather conditions and where access to a casualty is difficult.
---
On Call 24h
---
Search & Rescue
---
Casualty Care
---
Event Support
November 28, 2023
CALLOUT 55 On Sunday, 26th November, at approximately 15:40, the team was
[…]
November 24, 2023
CALLOUT 54 Yesterday afternoon (1500 23/11/23), as some of you may have
[…]
November 23, 2023
CALLOUT 53 Last weekend, on Saturday afternoon (~13:00 18/11/23) the team was
[…]
November 9, 2023
CALLOUT 52 On Saturday (4/11/23) evening, the team was called out to
[…]
November 3, 2023
CALLOUT 51 On Wednesday evening (1/11/2023) the team was at our base
[…]
October 24, 2023
CALLOUT 50 On Sunday evening (16:50 24/10/23) the team was contacted by
[…]
October 19, 2023
CALLOUT 49 The team was called out yesterday (18/10/23) around 13:00 to
[…]
October 16, 2023
CALLOUT 48 On Saturday 14/10/23 at just after 16:30pm the team was
[…]
Our
capabilities
---
We are a 100% voluntary organisation using our specialist equipment and training to support our local emergency services with missing person searches, casualty extraction and assistance in poor weather conditions.
---
Search Planning & Management.
Specialist Casualty Care.
Casualty Extraction.
Technical Rope Rescue.
Swiftwater Rescue.
Flood Response.
The
areas

we cover
---
Rossendale & Pendle Mountain Rescue cover an area of approx 350 square miles across East Lancashire:
---
Accrington
Blackburn
Burnley
Bury
Clitheroe
Pendle
Ramsbottom
Rochdale
Rossendale
South Ribble