CALLOUT 51 – Call to assist casualty at Clowbridge Reservoir
November 3, 2023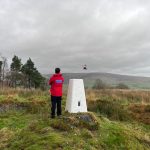 CALLOUT 53 – Call to assist NWAS near Sabden
November 23, 2023
CALLOUT 52
On Saturday (4/11/23) evening, the team was called out to assist the North West Ambulance Service NHS Trust (NWAS) with a casualty who had suffered a head injury and was in and out of consciousness at Ski Rossendale.
A simple extraction assisting the crew on scene, placing the casualty into one of our cas bags and using an onsite stretcher in tandem with the team's stretcher straps, and the casualty was soon sledded down the slope and handed over to the crew at the ambulance at the car park.
A late finish as this callout was initiated at 23:15 after some of the team had been providing first aid cover at Witton Park Bonfire and had not been home since before 15:00.
Team vehicles returned to base and team members finally stood down shortly after 00:30.
[stock image]
—
The Rossendale & Pendle Mountain Rescue Team is a full volunteer organization that responds to those in need in our local community. The team is on-call 24 hours a day, 365 days a year, and relies entirely on donations from members of the public to carry out this essential life-saving rescue service.
You can help with the work we do and support the team by texting 'RPMRT' to 70085 to donate £3 today.