CALLOUT 27 – Call to assist NWAS
June 25, 2023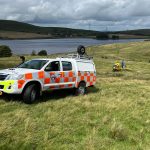 CALLOUT 29 – Call to assist the North West Air Ambulance
July 17, 2023
CALLOUT 28
On Saturday evening (17:25 15/7/23) the team was deployed to assist NWAS and the police with a casualty on Rooley Moor Road, Rochdale. Whilst we thank passers-by and locals for their assistance, no further information will be released by the team about this due to the nature of the incident.
[stock photo]
—
The Rossendale & Pendle Mountain Rescue Team is a full volunteer organization that responds to those in need in our local community. The team is on-call 24 hours a day, 365 days a year, and relies entirely on donations from members of the public to carry out this essential life-saving rescue service.
You can help with the work we do and support the team by texting 'RPMRT' to 70085 to donate £3 today.