CALL OUTS 1, 2, 3, 4 & 5 – A very busy snow day
January 3, 2021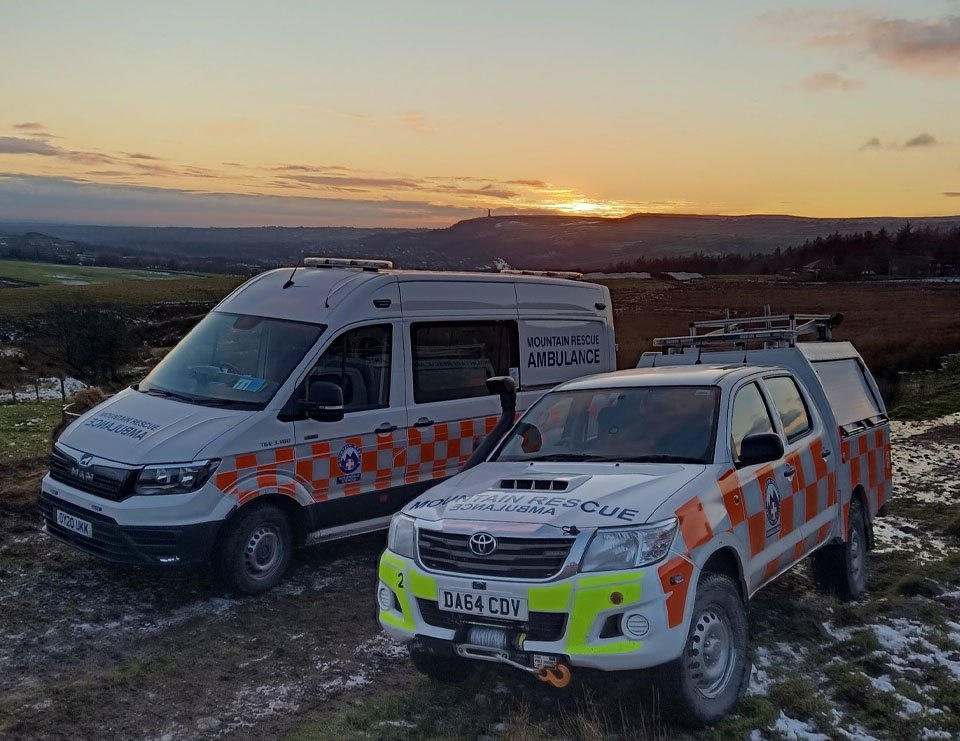 CALL OUT 8 – Call to assist injured sledgers
January 5, 2021
CALL OUTS 6 & 7
This afternoon saw the busy start of the year continue with two more call-outs by North West Ambulance Service almost simultaneously. Both incidents the team were provided with a what3words location along with grid references from NWAS which aided in finding the casualties quickly and easily.
#6 The first incident (15:23 3/1/21) was just off of Grane Road, Haslingden, where a sledder had gone feet first into a drystone wall. Team members arrived on scene and provided initial assessment, the casualty along with companions were warmed up as showing signs of hypothermia as team members, the team doctor along with an NWAS Paramedic provided strong pain relief treated the casualty's injuries. Once this was done the casualty was packaged and stretchered along the field to a rope system to be raised up to the roadside and the awaiting ambulance for transport onto Blackburn Hospital.
#7 Almost immediately (whilst team only on standby awaiting deployment for the first call) a second call came in (15:27), this time near Downham to another sledging incident with multiple casualties who had also ended up hitting into the drystone wall at the bottom of the field. Team paramedics were first on the scene, casualties were triaged and those not requiring immediate care were placed into a vehicle to stay warm and treatment focused on the priority casualty. They were provided pain relief and packaged into a vacuum mattress. Due to the nature and seriousness of the injuries, a request was made for an air ambulance, and with NWAA already busy, Yorkshire Air Ambulance was called in to assist and transported the casualty onto Preston for further treatment. The other casualties were dropped off to A&E by the team also.
Team members collected the equipment used from hospitals, returned vehicles to base, cleaning and restocking equipment, finally returning home by 19:30.
—
The Rossendale & Pendle Mountain Rescue Team is a fully voluntary organisation which responds to those in need in our local community. The team is on-call 24 hours a day, 365 days a year and relies entirely on donations from members of the public to carry out this essential life-saving rescue service.
You can help with the work we do and support the team by texting 'RPMRT' to 70085 to donate £3 today.