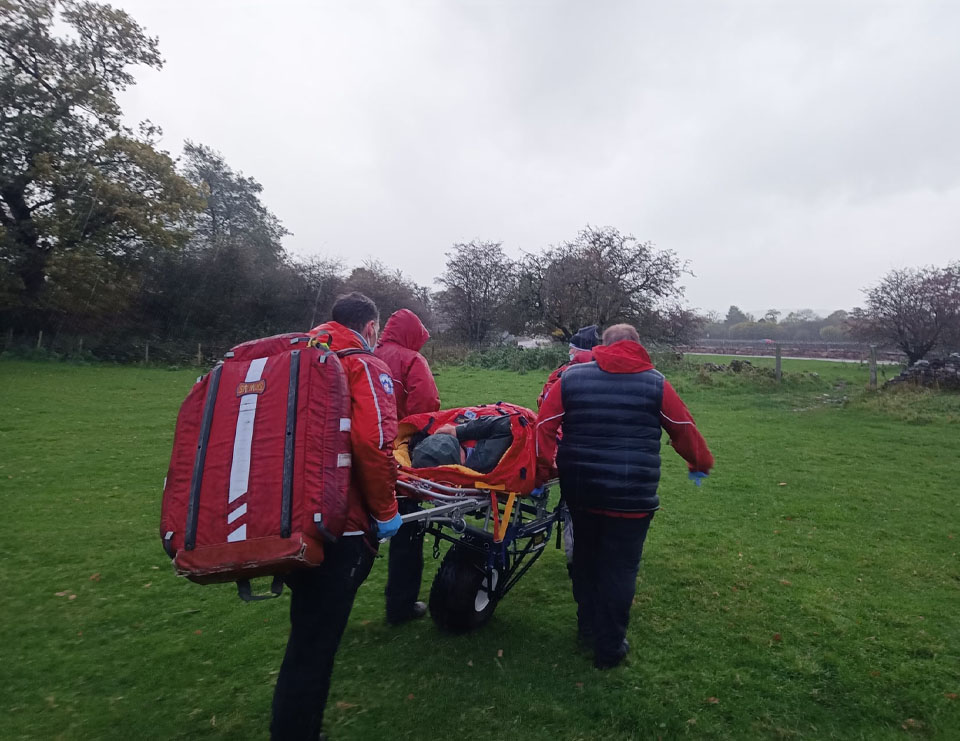 CALLOUT 78 – Call to assist male near River Ribble
October 31, 2021
Safety Cover at Witton Park Bonfire & Firework Display
November 6, 2021
CALLOUT 79
Around lunchtime today the team were called by both NWAS and Lancashire Police to an elderly walker who was reported to have slipped down the steps on Pendle Hill with a suspected knee injury.
Members with Mobile 2 responded with other members en route. On arrival, we were greeted by Lancashire Police so we proceeded to make our way up the steps as far as possible in our Polaris buggy.
The weather was horrendous, with driving rain and strong winds, on an initial survey it was clear the gentleman was fit and well except for his knee injury, so based on the worsening conditions the plan was to get him to the Polaris and down to our team vehicle ASAP to stop any onset of hypothermia making the situation worse.
Once down we quickly transferred the gentlemen to Mobile 2 for assessment, splinting and pain relief.
It was amazing to think the gentleman was 80 years old and walked up and down Pendle Hill every week and today was his 1148 time. He was in great spirits and a strong soul but things could've been considerably more serious had he not had had the gear he was so well equipped with.
Unfortunately, we had quite a wait for the land ambulance but his stories of walks gone by and a positive outlook certainly helped the time pass quickly.
We all wish him a speedy recovery and hope to see him back on Pendle very soon and saying hello!!!
A job well done.
—
The Rossendale & Pendle Mountain Rescue Team is a fully voluntary organisation which responds to those in need in our local community. The team is on-call 24 hours a day, 365 days a year and relies entirely on donations from members of the public to carry out this essential life-saving rescue service.
You can help with the work we do and support the team by texting 'RPMRT' to 70085 to donate £3 today.