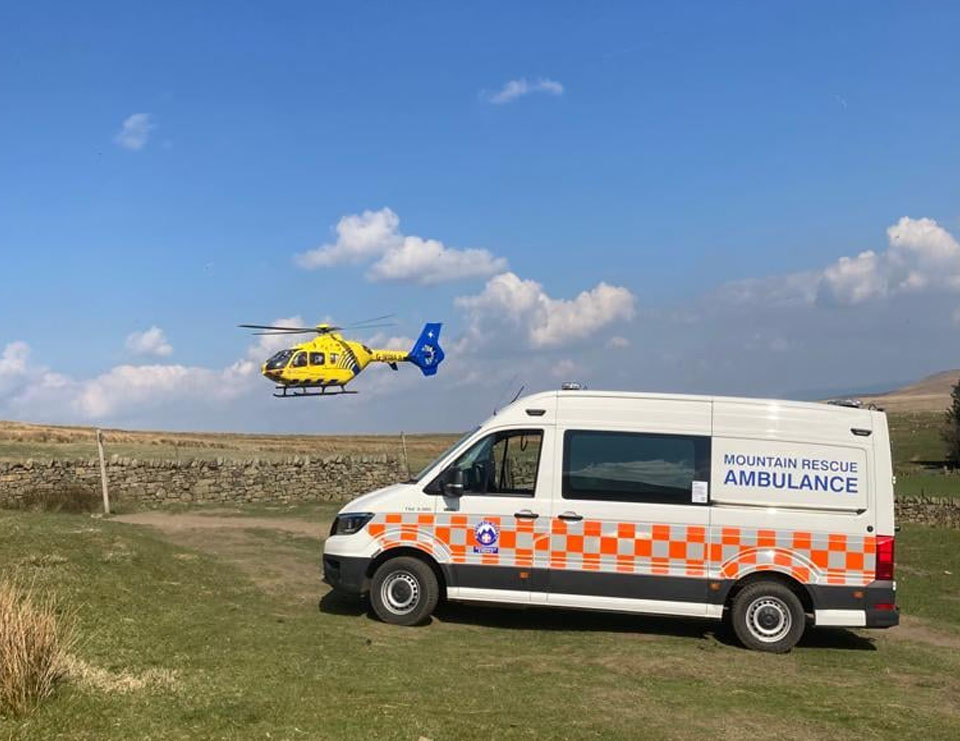 CALLOUT 11 – Call to assist patient on Pendle Hill
March 26, 2022
CALLOUT 13 – The team assists a walker on Pendle
May 22, 2022
CALLOUT 12
The team were called out yesterday at approximately 18:30 to a report of a mountain biker with a suspected arm injury at Lee Mill Quarry.
The team responded on blue lights whilst a few members who lived only a few miles away responded directly. One of our team cas carers was first on the scene to find the 31 yo male had sustained quite a few more and somewhat serious injuries than initially reported.
On arrival, the scene was pretty simple with the casualty sitting but in pain. Based on the mechanism of injury the cas carer immediately asked the casualty's friend to support his neck to prevent any further movement. He had lost consciousness a few times, and had serious pain from his left collar bone, shoulder blade and around C3-4 of his neck. His vision was disorientated and had numbness down his left side with chest pain when breathing. Our cas carer updated control and kept the casualty warm until backup arrived.
Within 10 minutes mobile 1 was on scene with 2 team members on board who are also HART paramedics. After a quick update and further assessment we administered Entonox, IV liquid Paracetamol and Morphine to stabilise his pain.
As additional members turned up we carefully placed the casualty in neutral alignment, stabilised his whole body in the vac mat and stretchered him down from the quarry to the road head to meet the ambulance.
It must be said the casualty had the worst luck… He'd just bought his bike and went to the quarry to try out only to have an unfortunate accident like this. He'd also just bought a brand new helmet that day, which in inspection probably saved his life as it had taken quite some impact on the corner when he landed on the rocky ground.
Accidents had! There's nothing the casualty could've done differently and we wish him a speedy recovery and hope to eventually see him back out on his bike enjoying the countryside in the near future.
—
The Rossendale & Pendle Mountain Rescue Team is a full volunteer organisation that responds to those in need in our local community. The team is on-call 24 hours a day, 365 days a year and relies entirely on donations from members of the public to carry out this essential life-saving rescue service.
You can help with the work we do and support the team by texting 'RPMRT' to 70085 to donate £3 today.