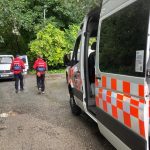 CALLOUT 31 – Call to assist Greater Manchester Police
July 19, 2023
CALLOUT 33 – Call to assist NWAS
August 11, 2023
CALLOUT 32
The team was called by Hyndburn Police yesterday morning to assist in the search for Helen.
Our thoughts and sincere wishes are with family and friends at this difficult time.
RPMRT.
—
The Rossendale & Pendle Mountain Rescue Team is a full volunteer organization that responds to those in need in our local community. The team is on-call 24 hours a day, 365 days a year, and relies entirely on donations from members of the public to carry out this essential life-saving rescue service.
You can help with the work we do and support the team by texting 'RPMRT' to 70085 to donate £3 today.